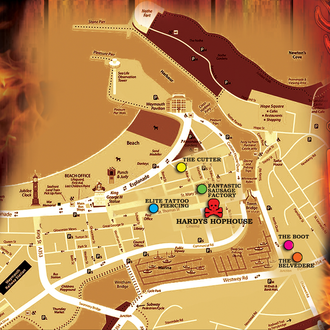 WEYMOUTH PIRATE FEST '23 : EVENT OUTLINE
For those who may be unfamiliar with Weymouth's piratey goings on:
FRIDAY Crews like to gather in their gaudy gladrags for some naughtiness and merry-making about the town. The main hub of events on Friday night will be at Hardys Hophouse in St Thomas Street.
SATURDAY The main shenanigans include the notorious Pirate Parade! There will be piratey buskers popping up and roaring some tunes throughout, some rascally performances from our infamous rogues, and, of course, more live music from international band THE DOLMEN to complete the day!
SUNDAY For the Survivors still standing! After a fortifying breakfast in the town's lovely hostelries, a nice but still naughty good old knees-up at an acoustic afternoon. Our main pirate headquarters for 2023 will be HARDYS HOPHOUSE in St Thomas Street.
PLACES TO GET UPDATES AND NEWS
http://facebook.com/weymouthpiratefest
http://facebook.com/thedolmenpirateparlay
Feel free to join our mailing list for news of this and future events by registering your email at the bottom of the page...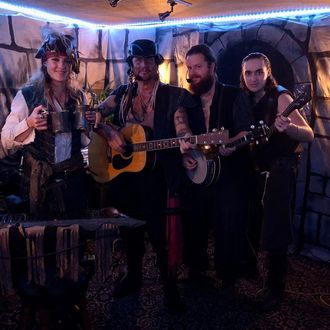 The Dolmen -The cutter
29th September 2023
Little snapshot of The dolmen down at The Cutter Hotel Weymouth, where they performed a Pirate acoustic session.
HOW TO GET INVOLVED - COME JOIN THE CREWS! 
As always, we invite all our lovely Townsfolk and Visitors to come 
join the Party and become Pirates, aka Scallywags, Seadogs and 
Strumpets! On Friday evening come along to The Dolmen Crew HQ 
HARDYS HOPHOUSE and join the Launch-the-Fest Party! 
Then on the big day Saturday, bring all they Mini-Pirates to follow 
the drums in the Parade and say a good Arrrgh!?' with the rest of 
us! 
If you're a Business, come join in too! Feel free to dress up Yourself, 
your Windows, your Staff! Perhaps you'd like to pirate theme your 
day's products and services, from meals to drinks to cakes to tattoos! 
Maybe you're a street trader? Check the official necessaries for street 
trading in Weymouth that day, sort a pitch, and come join the party! 
And if you wish to be added to Weymouth Pirate Fest 23's social 
media posts, map, graphics and website, even have the Parade and/or 
buskers play outside your shop, come and join our growing list of 
brilliant sponsors by emailing info@weymouthpiratefest.com